EX 3
A video playback and pixel-perfect mapping solution designed specifically for location-based experiences and fixed installations. 
Pixel-perfect location-based experiences
EX 3 is designed to meet the specific playback needs of location-based experiences and fixed installations. Build your project in our pioneering Designer software and bring your vision to life at pixel perfect quality.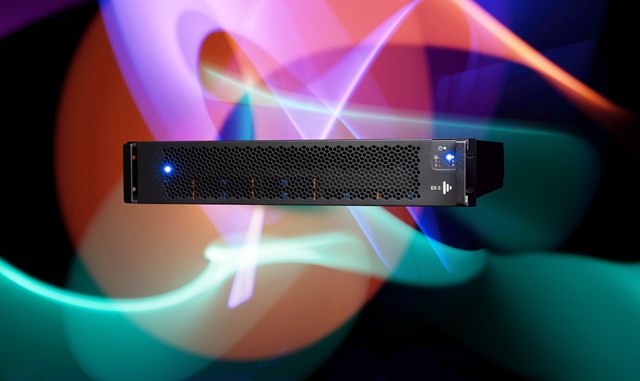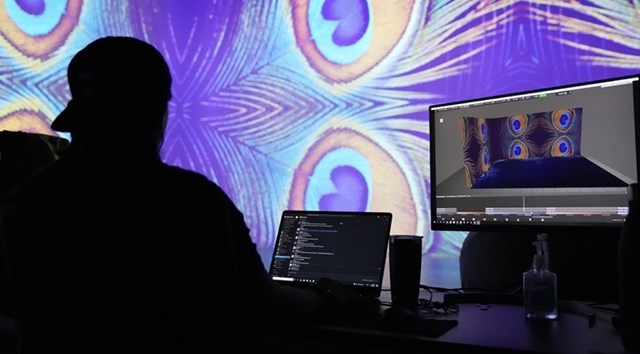 An end-to-end platform from concept to delivery
EX 3 unlocks access to the full disguise platform, connecting users to the Designer software through both the disguise APIs and disguise Cloud applications, so they can benefit from a single connected workflow from concept to delivery.
Seamless projector calibration
The EX 3 can also be used alongside OmniCal, our camera-based projector calibration system which accurately aligns projectors to sub-pixel precision within minutes, on any projection mapped installation.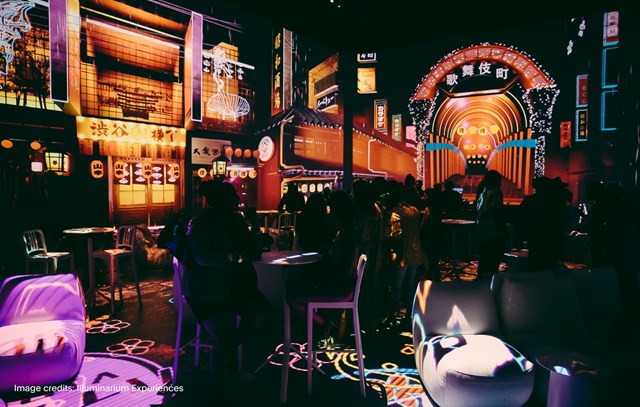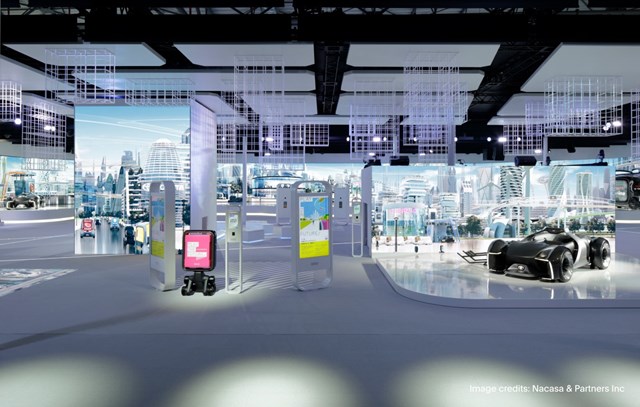 World-class 24/7 support
When you add an EX 3 to your hardware fleet, you can immediately benefit from our top rated 24/7 support services, local service centres and server loan programmes, ensuring your project will run without a hitch and deliver an unforgettable experience.
Learn more
Complete the form to learn more about how the EX 3 will enable you to deliver pixel-perfect experiences!
Designed to ensure pixel-perfect video playback and mapping at scale, the EX 3 features 3x DisplayPort 1.4 outputs for 4K video within a 2U chassis.
EX 3 includes sufficient networking capabilities for fixed installations with the inclusion of dual 1GbE, 10GbE and 25GbE ports.
Built-in hardware failover to guarantee project continuity in the rare event of machine failure. 
Outward integrations via disguise APIs (show and project control, server monitoring and control, OSC and DMX for external triggers) for enhanced control and accessibility.
Technical specifications
System Connectivity - I/O
Video Output
1x DisplayPort 1.4 (GUI)
3x DisplayPort 1.4
Video Sync
BNC Genlock
General Network
2x 1GbE/sec
2x 10GbE/sec
High Speed Network
2x 25GbE/sec (SFP28)
Data/Peripherals
4x USB 3.0
Physical Specifications
Mounting System
2U 19" rack mount
Unit Dimensions
W: 438.5mm (17.26")
H: 88.5mm (3.42")
D: 788.8mm (31.06")
Unit Weight
20.5 kg / 45.2 lbs
Unit + Rack Handles
W: 483.5mm (19.03")
D: 821.8mm (32.35")
Environmental Tolerances
Temperature: 5-30°C (40°-86°F)
Humidity: 28%-80% (non-condensing)
Altitude: 0-2700m (0-8850 ft)
Hardware Specifications
GPU
NVIDIA A4500
CPU
Intel Xeon 3.2GHz
Memory
96GB RAM (12x 8GB)
Storage
1x 3.84TB SSD (default)
Optional Storage Upgrades
7.68TB
15.35TB
30TB

Available at sale and return to base
Voltage
100-240VAC, 50-60Hz

For countries with variable power supply, we recommend a UPS to provide a consistent voltage
Power Connection
IEC
Power Consumption Peak
485W
Heat Dissipation Peak
1,653 BTU/hr
Max Decibel Rating
66dB

Testing has not been completed through official lab testing
OS
1x Dedicated Internal SSD
Software Features
Operating System
Windows® 10 IoT Enterprise SAC
disguise Proprietary
Full production suite
Bundled Accessories
Bundled Accessories
Slide Rail Kit
Rack Handles
Hardware Guide
Power Cable (Plug - IEC) x2: USA, EU, UK
Support, Updates and Warranties
Perpetual licence version includes
Free software upgrades for the life of the machine

2-year return to base hardware warranty (this can be optionally extended by up to 5 years)
Premium warranty optional, can be extended by up to 5 years
Performance
We regularly test our media servers to ensure that they perform to the highest standards. Below is the playback performance data for the EX 3

Playback
The following table shows how many layers can simultaneously be played back per codec
EX 3
| | | |
| --- | --- | --- |
| Video codec | Content data rate | Max layers |
| HD HAP 30 | 31 MB/s | 34 |
| HD HAP 60 | 62 MB/s | 30 |
| HD HAPQ 30 | 61.25 MB/s | 29 |
| HD HAPQ 60 | 122.5 MB/s | 17 |
| HD Animation 30 | 187.25 MB/s | 12 |
| HD Animation 60 | 374.5 MB/s | 6 |
| HD TIFF Sequence 30 | 237 MB/s | 9 |
| HD TIFF Sequence 60 | 474 MB/s | 4 |
| HD NotchLC 30 | 78.375 MB/s | 24 |
| HD NotchLC 60 | 156.75 MB/s | 13 |
| UHD HAP 30 | 132 MB/s | 15 |
| UHD HAP 60 | 264 MB/s | 8 |
| UHD HAPQ 30 | 261.25 MB/s | 8 |
| UHD HAPQ 60 | 522.5 MB/s | 4 |
| UHD Animation 30 | 798.25 MB/s | 3 |
| UHD Animation 60 | 1596.5 MB/s | 1 |
| UHD TIFF Sequence 30 | 949 MB/s | 3 |
| UHD TIFF Sequence 60 | 1898 MB/s | 2 |
| UHD NotchLC 30 | 331.5 MB/s | 6 |
| UHD NotchLC 60 | 663 MB/s | 3 |
| UHD DPX Sequence, 8-bit, RGB, 30 | 759 MB/s | 3 |
| UHD DPX Sequence, 8-bit, RGB, 60 | 1518 MB/s | 1 |
| UHD DPX Sequence, 10-bit, RGB, 30 | 1011 MB/s | 2 |
| UHD DPX Sequence, 10-bit, RGB, 60 | 2022 MB/s | 1 |
| UHD TGA Sequence, 8-bit, RGB, 30 | 759 MB/s | 3 |
| UHD TGA Sequence, 8-bit, RGB, 60 | 1518 MB/s | 2 |
| UHD TGA Sequence, 8-bit, RGB, 30 | 1011 MB/s | 2 |
| UHD TGA Sequence, 8-bit, RGB, 60 | 2022 MB/s | 1 |
| UHD TIFF Sequence, 8-bit, RGB, 30 | 759 MB/s | 3 |
| UHD TIFF Sequence, 8-bit, RGB, 60 | 1518 MB/s | 2 |
| UHD TIFF Sequence, 10-bit, RGB, 30 | 1011 MB/s | 2 |
| UHD TIFF Sequence, 10-bit, RGB, 60 | 2022 MB/s | 0 |
testing completed on r24 98098
Performance specifications listed here outline the maximum amount of video layers that are achievable on a single EX 3. These can fluctuate in future releases
All HD codecs listed above have an output resolution relevant to Full-HD (1920 x 1080). All UHD codecs listed above have an output resolution relevant to 4K DCI (4096 x 2160)
EX 3 architectural specification