Designer
Designer is the ultimate software to visualise, design, and sequence projects wherever you are, from concept all the way through to showtime.
Bring your
ideas to life
Install and use Designer on your laptop as a powerful toolkit for winning pitches, developing storyboards, creating camera fly-throughs, validating content, testing technical setups, and designing entire shows.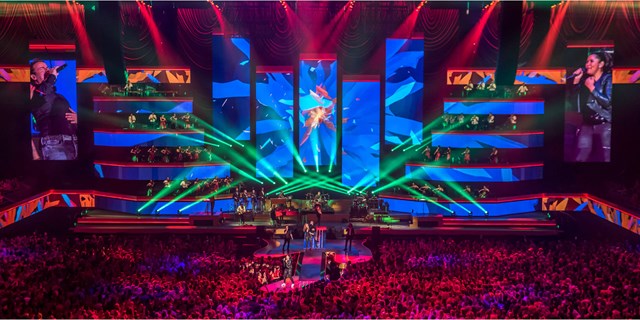 Visualise
your thinking
See your project come to life with the advanced 3D stage simulator. Navigate through the set for a pixel-perfect view of your entire show. Whether you're reviewing it from a technical or creative perspective, add screens, lights and projectors, even down to their lenses. Once you're happy, render fly-through movies to share your masterpiece with the client.
Map your
content
Throw your content onto the stage from any angle with our advanced content mapping features. The disguise software knows the exact position of every pixel, so it can easily map content onto multiple screens of any shape and form – static or moving. Whether you're working with LED or DMX-based screens, with the right type of mapping, your design will really come alive.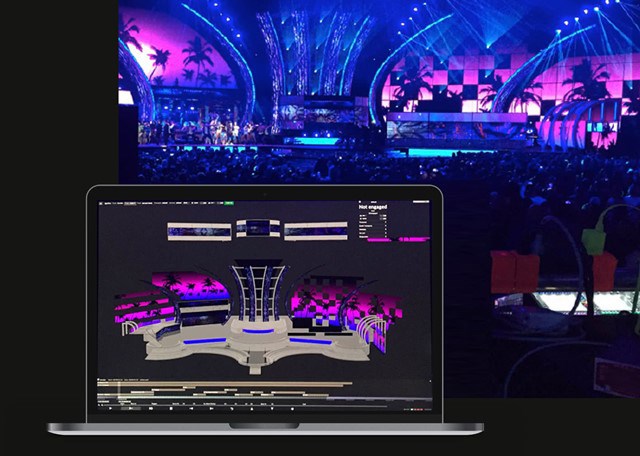 The big reveal
Take control of multiple media layers and sequence your entire show from your laptop. Whether you're tweaking the design or syncing the visuals to the beat – it's easy to mix and match layers. When it's time to go live, our powerful configuration tool prepares the outputs so they look exactly as you imagined.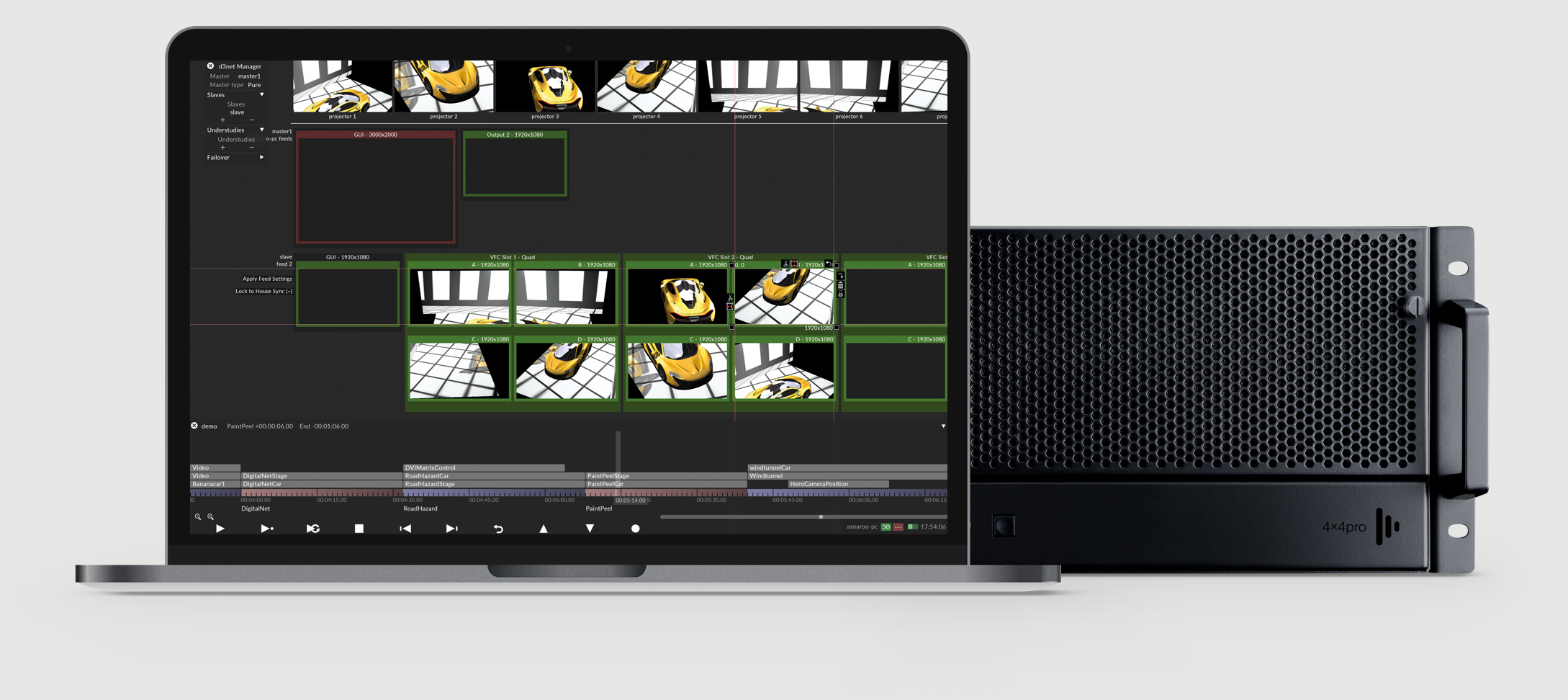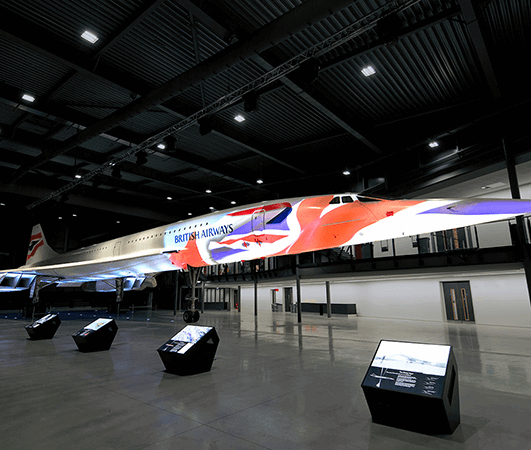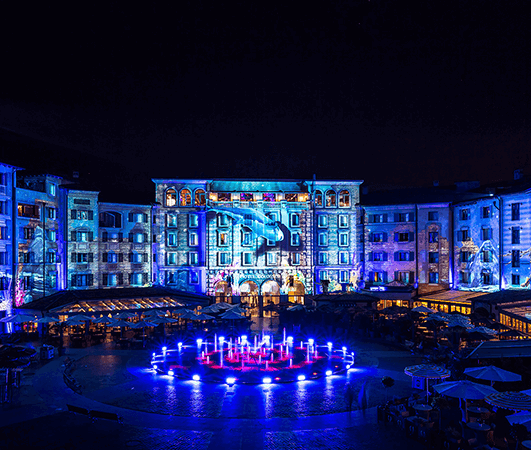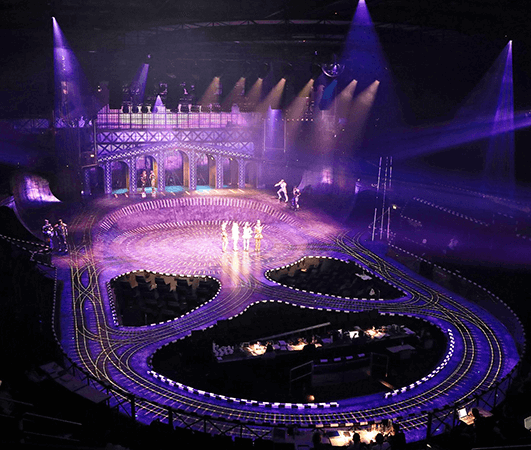 Concorde at Aerospace Bristol
disguise allows us to create a well-thought out workflow for each project. We can figure out any potential issues and remedy these before we get on site, through pre-visualising a project, and making tweaks before final installation. Everything is then ready to go before the kit even turns up at the job location.

Jackson Tayler, Head of Technology / Projection Artworks
Discover more
Journey to Rulantica - Europa Park
We used the VR workflow to get a really good understanding of your production environment. You can literally see it in front of your eyes, and it always gives us a good impression of sizes and speeds within the creative production.

Michael Giegerich, Creative Director / bright!
Discover now
Starlight Express
disguise allowed us the flexibility we needed during rehearsals, where ideas were constantly evolving, and the visualiser was an absolutely invaluable asset. Interactions with other show elements were intuitive to set up, and the Multi-Edit sessions allowed us great freedom in how we worked.

Emily Malone - Programmer
Discover more
Visualiser knows where every pixel is, and can use this knowledge to control the output. So you can map content easily onto complex surfaces in a fraction of the time.
Advanced projector toolkit
For projection mapping projects, create content and apply it directly to the 3D model of your projection surface.
Timeline lets you create cues, synchronise media and control layers, group layers, and quickly edit layer properties over time. Work either in HMSF for frame-by-frame accuracy, or add guide audio tracks so you can work in beats and bars for compelling, rhythmic edits.

Connect multiple editor laptops to let many operators work on the show in parallel, sharing edits in real time. Multi-Edit lets you handle largest workloads to the tightest of deadlines.
Technical specifications
Software Features
Design and Pre-visualise
Build and save projects
Make visualiser movies to file
Make feed movie files
Make screen grab files
Input DMX/MIDI/OSC
Transfer project to disguise system
MultiEdit in disguise Net
Playback
Output video with watermark
Output DMX with watermark
Render unwatermarked feed movies to file
Media File Specifications
Video Playback
.mov (anim, pjpg, DXV, Hap, Hap Q)
Still Image Format
.png, .jpeg, .bmp, .tiff, .tga
Audio Playback
.wav/.mp3 (44.1kHz, 16-bit, stereo)
3D Mesh Format
.obj
Minimum Hardware Specifications
Operating System
Minimum Windows 7, 8, 8.1 or 10 64-bit
CPU
Intel i5 2.3Ghz Quad Core or above
GPU
1GB Video RAM, DX11.1 compatible
Memory
2GB RAM