blog 2022 4 min read
MTSU partners with disguise for its new on-campus xR stage
Middle Tennessee State University's (MTSU) Department of Media Arts has become the latest university to build an on-campus disguise xR stage. With new courses centred around disguise workflows, a new generation of filmmakers, live event technicians and virtual production professionals are set to enter the industry with a strong foundation in disguise xR.
With the film, television and live events industries swiftly adopting virtual production as the industry standard, MTSU's Department of Media Arts has solidified their reputation as a leading institution in the region by ensuring its alumni will be trained in the latest virtual production and extended reality workflows, and become job-ready upon graduation.

The proposal to develop an xR stage was first made by Mike Forbes, MTSU Media Arts' Director of Technical Systems. After researching the available options and identifying the best components for the stage, as well as consulting MTSU alumni and other industry experts, Mike arrived at disguise technology as the best solution for the department's needs. After presenting his findings to the faculty, disguise's industry leading solution was the obvious choice.

A short time later, funding was greenlit, and the race was on to install the facilities, train the faculty and develop a new curriculum to be ready by the Fall 2022 semester.

"We received the green light for funding in November 2021. From that point we had to hire a systems integrator, make the purchases, install the facilities, get training for faculty, and get ready for teaching. By February 2022, we had developed a list of courses that would incorporate various aspects of virtual production from engineering through to production. I am also working with industry experts to support our educational efforts as guest speakers, facility tours, and internships," says Billy Pittard, Professor of Media Arts at MTSU.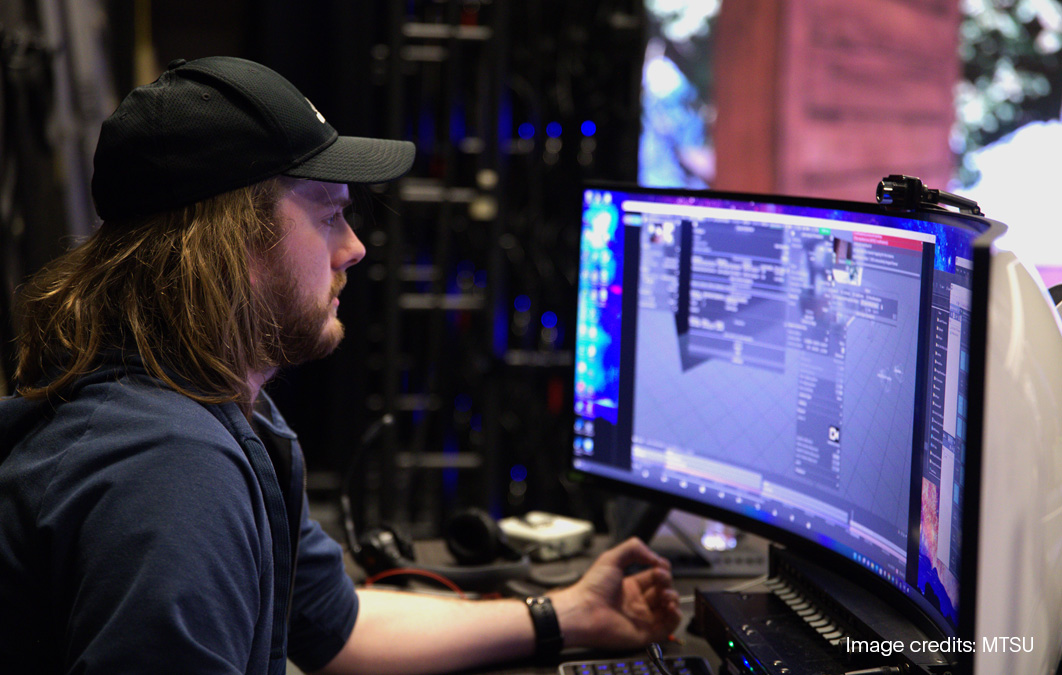 The new curriculum covers various applications of disguise's workflows and integrations, including:
Unreal Engine Production for Virtual Production

xR Filmmaking and Production Design

xR, Live Event, and LED Virtual Production I

xR, Live Event, and LED Virtual Production II

Multi-Camera Production 

Live Production Capstone Project
Given the potential the new xR stage has for crafting powerful and immersive experiences in a wide array of media, it was no surprise that the campus was a buzz with interest in the new courses, and spots filled up quickly.

Designed for both film and television production, MTSU's xR stage consists of two LED walls at right angles and a full LED floor, with different faculty making use of the various components of the setup. Two disguise rx II real-time render nodes are set up to drive real-time Unreal Engine graphics on the stage and a disguise vx 2 server for media playback and compositing.

"Our film faculty are planning to use the stage to create realistic environments for traditional storytelling. Our television faculty will use the two walls and the floor for more television-like productions including music video performances, and other genres that can benefit from the LED floor," Pittard says.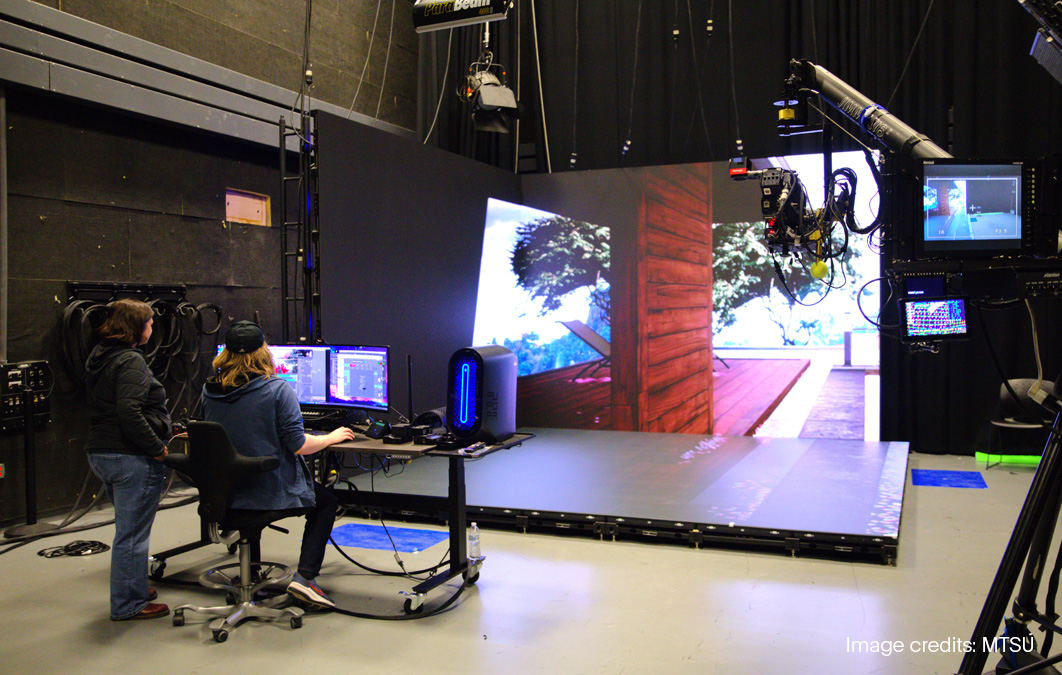 With Nashville, Tennessee widely considered to be the capital of the concert touring industry, alumni trained in disguise technology for live events are well placed to thrive in a local industry that is rapidly adopting virtual production.

When asked about the future of xR technology in the future of the media and arts industry, Pittard is beyond optimistic:

"xR technology and virtual production, in general, are here to stay. They satisfy so many needs for creative production - and create an infinite range of new possibilities. I don't think I could overstate the importance these workflows will have in the future of video and film production."
As virtual production continues to be the industry standard for creating immersive experiences in film and TV, universities will increasingly follow in MTSU's footsteps to create innovative new curriculums that will train the next generation of creative arts professionals.

Learn more about disguise xR
About MTSU Department of Media Arts
MTSU's Department of Media Arts is the largest, and most comprehensive program for creative media production in the state of Tennessee. Media Arts' offers five Bachelor of Science degrees including: Video and Film Production, Animation, Interactive Media, Photography and Media Management, plus the following concentrations in Video and Film Production: Filmmaking, Live Production, and Motion Design. Learn more here.